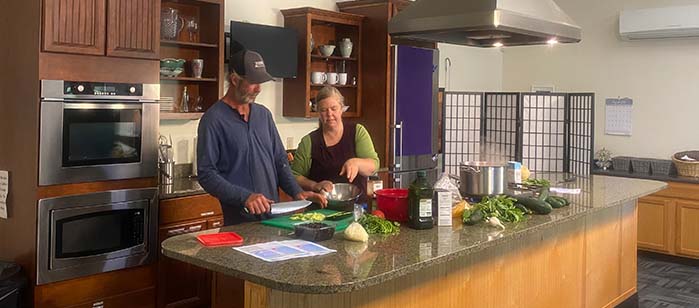 STAY IN THE LOOP
Join our mailing list above!
KITCHEN STUDIO
PEGTV Invites You To Utilize Our Kitchen Studio!
We would like to invite the public to utilize our beautiful, fully functioning cooking studio here at PEGTV. No training workshop is required to reserve space but we suggest you schedule a meeting with Channel 1075 Coordinator, Chelsea Vogel, to familiarize yourself with the studio and become informed on how a cooking show is generally produced. You can host your show solo, recruit a co-host or even provide a live studio audience of family and friends. It's fun, easy and free to any resident of Rutland County.
Cooking shows could vary from local chefs highlighting one of their in-house specialties to a grandmother's secret recipe for chocolate chip cookies to a local gardener who wishes to share their love of harvest cooking. Once a show is completed, the episode will air on Channel 1075 with subsequent availability on PEGTV's video on demand portal on the web.
You can also share your favorite recipe with the Rutland region (and the world) by letting us upload it to our website for the public to download.
Must be 18 years of age or older to utilize facilities.
For more information call (802) 747-0151 or email cvogel@pegtv.com