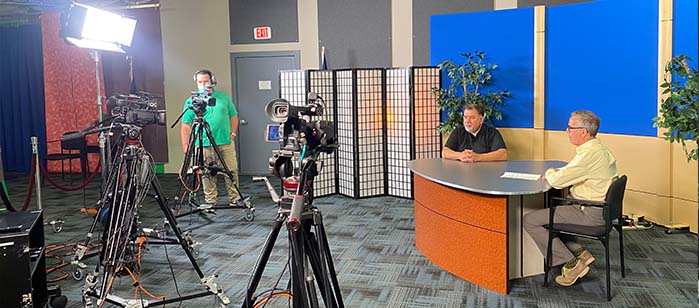 STAY IN THE LOOP
Join our mailing list above!
ORGANIZATIONS
PEGTV empowers Rutland-county based non-profits by improving their media presence. PEGTV helps get their message out to the community at no cost.
What we provide:
Two In-House Studios
You can utilize our two beautiful in-house studios, which includes a fully functional kitchen studio. We have everything you need to produce a quality show offering you a number of set options. Our staff is on hand as your video production crew.
Free Training
Free training in all aspects of TV production to all members of your non-profit agency. You can get your message across to your target community. Once your training is complete you can utilize our field equipment to film on location. Bring your footage back to PEGTV and our staff will train you in the basics of video editing in one of our editing bays so you can produce your show how you vision it.
Air Pre-produced Programs
Your organization can send us a completed show or a Public Service Announcement and we will air it for you on the appropriate PEGTV channel. You can uploaded it through our website or drop it off at our offices.
Other Ways PEGTV Can Help Promote My Organization:
• Bulletin Board
The "Bulletin Board" is a set of scrolling slides of text and still images that runs between programs. Many use the Bulletin Board as an effective way to publicize an event or inform the public about their services. Email your information to jboughton@pegtv.com or mail your announcement and we'll post it.
• Video Press Release/PSA
It's a speedy way to get the word out in a low-pressure environment if you don't want to produce a whole show. Tape a promotion or message about your organization, event, or cause, quickley and easily right in our parking lot or a location in our studio. There is no set, no stage and no countdown so you can relax and speak off the cuff or use our teleprompter. Simply give the specifics of your event, program, school news etc. and you'll be in and out in a flash. The message is aired on the appropriate channel and will also be uploaded online and promoted through our social media.
• Air Your Own Locally Produced Video
Hire an agency or production house to produce a video for you and we will give you a time slot for broadcast if it meets our program guidelines.
If you have any questions or would like to submit your show, contact PEGTV at (802) 747-0151 or email jboughton@pegtv.com