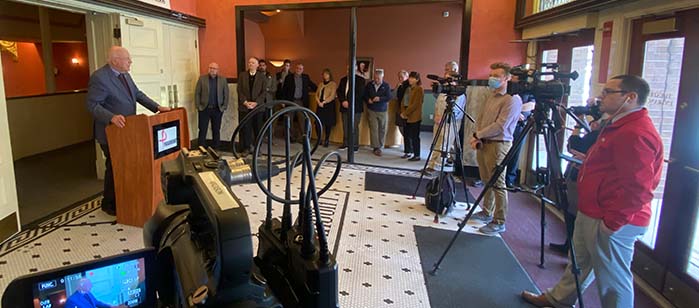 STAY IN THE LOOP
Join our mailing list above!
GOVERNMENT 21
Channel 21 is PEGTV's Government Channel. The government station's content must be related to the workings of the local, state or federal government. Government programming includes, but is not limited to, political talk shows, Aldermen and Select Board meetings, legislative breakfast series, current affairs, political history, informational bulletin board and more. We also offer LIVE unbiased election coverage and candidate profiles for those running for office during election years.
Channel 21 is managed by Program Coordinator Chelsea Tice. Chelsea's communications education began in high school where she was part of the Stafford Technical Center's video production program for two years and she was also the recipient of PEGTV's Courcelle Scholarship her senior year. She moved to Boston, Massachusetts to attend the New England Institute of Art where she received her BS in digital film and video technology in 2012. During her time in Massachusetts she interned and worked at several access stations. At her last position at Channel 13 in Worcester, Chelsea instructed ELS (English as a second language) students video production skills.

SCHEDULE
Click each to expand schedule.


5:30 PM COVID 19 RRMC Panel Discussion
7:00 PM Killington Select Board - February 18, 2020
9:00 PM Rutland Town Select Board - February 25, 2020

8:00 AM Clarendon Select Board - March 9, 2020
11:00 AM Rutland Town Planning Commission - March 12, 2020
1:00 PM Fair Haven Select Board - March 10, 2020
4:30 PM Big Joes Journal - Episode 880
7:00 PM Castleton Select Board - March 9, 2020
9:00 PM Proctor Select Board - March 9, 2020

7:30 AM Pawlet Select Board - March 10, 2020
10:30 AM Proctor Select Board - March 9, 2020
2:30 PM Brandon Select Board - March 9, 2020
7:00 PM Rutland Town Select Board - February 25, 2020
10:00 PM Clarendon Select Board - March 9, 2020

8:30 AM Castleton Select Board - March 9, 2020
11:30 AM Killington Select Board - February 18, 2020
4:00 PM Pittsford Select Board - March 4, 2020
5:00 PM Rutland Town Planning Commission - March 12, 2020
6:30 PM Fair Haven Select Board - March 10, 2020
9:30 PM Brandon Select Board - March 9, 2020

7:00 AM Rutland Town Planning Commission - March 12, 2020
9:00 AM Danby Select Board - March 12, 2020
11:00 AM Rutland Town Select Board - February 25, 2020
2:30 PM Killington Select Board - February 18, 2020
5:30 PM Pawlet Select Board - March 10, 2020
9:30 PM Proctor Select Board - March 9, 2020

9:30 AM Pittsford Select Board - March 4, 2020
11:30 AM Castleton Select Board - March 9, 2020
2:00 PM Danby Select Board - March 12, 2020
4:00 PM Brandon Select Board - March 9, 2020
9:30 PM Rutland City Board of Aldermen - March 2, 2020

9:00 AM Pittsford Select Board - March 4, 2020
12:00 PM Pawlet Select Board - March 10, 2020
2:00 PM Danby Select Board - March 12, 2020
7:00 PM Rutland City Board of Aldermen - March 2, 2020

8:00 AM Fair Haven Select Board - March 10, 2020
12:00 PM Rutland City Board of Aldermen - March 2, 2020
3:00 PM Clarendon Select Board - March 9, 2020
7:00 PM Killington Select Board - February 18, 2020
9:00 PM Rutland Town Select Board - February 25, 2020

CHANNEL NOTES & INFO
>> Local Government Meetings on CH21
>> PEGTV Channel 21 Time Slots for Current Programs
>> Rutland County City/Town Website Directory
>> State & Federal Government Links
>> State of Vermont Constitution





LIVE CHANNEL STREAM
Online Schedule:
Saturday, Sunday & Wednesday - CH15
Monday & Thursday - CH21
Tuesday & Friday - CH20