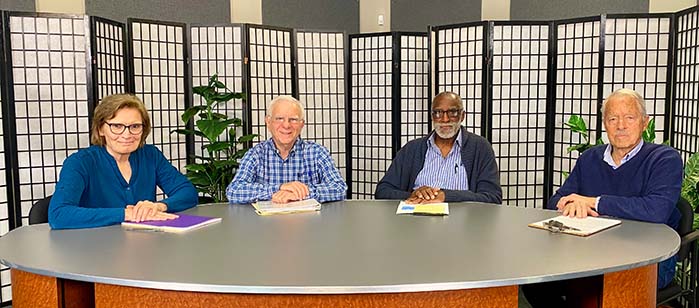 STAY IN THE LOOP
Join our mailing list!
Stay updated on news, events & more:
SHOW DESCRIPTIONS
Calvary Bible Church - Rutland
Channel 15 • Next Airing: Sun 8:00am & 8:00pm
Regional Co-Pastor David Lind and Resident Co-Pastor Seth Pankratz. Weekly service produced by Gary Bouchard. One of PEGTV's longest running programs.
Castleton Select Board
Channel 21 • Next Airing: Wed 7:00pm, Fri 8:30am, Sun 11:30am
Meets on the 2nd & 4th Monday of every month at 7pm.
Central Vt. Cheerleading Competition
Channel 15 • Next Airing: Tues 9:00pm, Wed 1:00pm, Sat 10:00am
Central VT Cheerleading Competition held at Keefe Gym in Rutland on February 2, 2019. Vt. Principals' Association sanctioned event.
Chaffee - It's All About the Arts
Channel 15 • Next Airing: Tues 4:00pm, Wed 11:00am, Thurs 9:00pm
New program produced by Chaffee Art Center, Rutland entitled - It's All About the Arts. Hosted by Chaffee Director Jim Boughton and Marketing and Events Director Sherri Birkheimer Rooker. Learn more about the exciting events and classes happening at the historic arts center.
Conservative
Channel 21 • Next Airing: Tues 11:30am, Wed 5:00pm, Thurs 9:00pm, Sat 8:30pm
Hosted and produced by Mike Lannon who chimes in and informs us, through a conservatives eye, of what the actions being taken in local and big government mean for the citizens and communities of Vermont.
Cooking with Katrina
Channel 15 • Next Airing: Tuesday at 7:30pm, Wednesday at 12:00pm, Friday at 9:00am
Cooking enthusiast Katrina Parker takes to the kitchen to host a new cooking show, where she shares some of her favorite recipes, along with cooking tips and tricks.