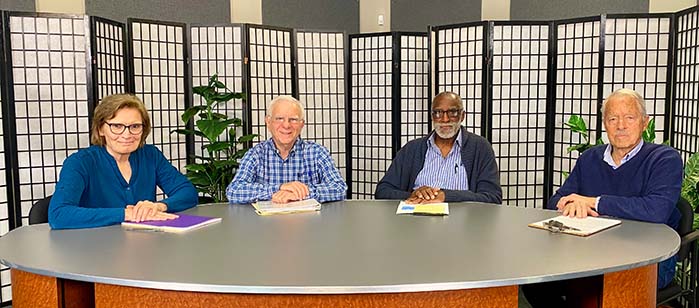 STAY IN THE LOOP
Join our mailing list!
Stay updated on news, events & more:
SHOW DESCRIPTIONS
Calvary Bible Church - Rutland
Channel 15 • Next Airing: Sun 8:00am & 8:00pm
Regional Co-Pastor David Lind and Resident Co-Pastor Seth Pankratz. Weekly service produced by Gary Bouchard. One of PEGTV's longest running programs.
Castleton Select Board
Channel 21 • Next Airing: Wed 7:00pm, Fri 8:30am, Sun 11:30am
Meets on the 2nd & 4th Monday of every month at 7pm.
Chaffee - It's All About the Arts (When Available)
Channel 15 • Next Airing: Tues 4:00pm, Wed 11:00am, Thurs 9:00pm
Produced by Chaffee Art Center, Rutland entitled - It's All About the Arts. Learn more about the exciting events and classes happening at the historic arts center.
Clarendon Historical Society
Channel 15 • Next Airing: Wed 9:30am, Thurs 8:30pm
Clarendon Historical Society presents the "History of the Clarendon Fire Department" with speaker Al Ridlon, Sr.
Conservative
Channel 21 • Next Airing: Tues 11:30am, Wed 5:00pm, Thurs 9:00pm, Sat 8:30pm
Hosted and produced by Mike Lannon who chimes in and informs us, through a conservatives eye, of what the actions being taken in local and big government mean for the citizens and communities of Vermont.
Cooking with Katrina
Channel 15 • Next Airing: Tuesday at 7:30pm, Wednesday at 12:00pm, Friday at 9:00am
Cooking enthusiast Katrina Parker takes to the kitchen to host a new cooking show, where she shares some of her favorite recipes, along with cooking tips and tricks.