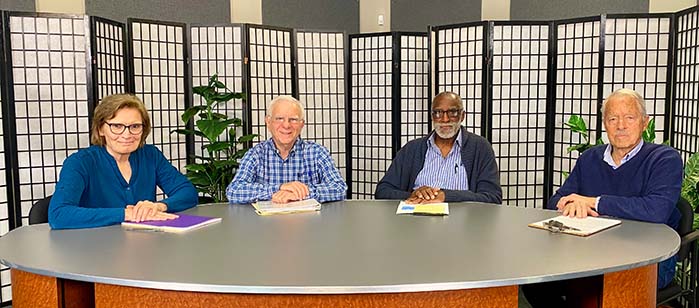 STAY IN THE LOOP
Join our mailing list!
Stay updated on news, events & more:
SHOW DESCRIPTIONS
We Are H.O.P.E
Channel 15 • Next Airing: Sun 3:00pm, Wed 9:00pm, Thurs 9:00am
Homeless, Outreach, Prevention, Experience. Hosted by Pastor Barry Dean, this program is about building community and stronger families.
What Is It To Be Irish?
Channel 15 • Next Airing: Tues 8:00pm, Wed 9:30am, Friday 5:00pm
Documentary - Former Rutland City Mayor Dan Healy's annual St. Patrick Day radio address first recorded in the 1950's, at former Rutland radio station WHWB on the West Proctor Road. Digitally enhanced with music and pictures.
What's Cookin' Rutland
Channel 15 • Next Airing: Monday 5:00pm, Tues 1:30pm, Fri 8:30pm
Hosted & Produced by Bethany Yon, this cooking show features great healthy recipes for the whole family. Often Bethany will give us ideas for using seasonal produce to make fresh affordable meals. Recipes can be downloaded by doing to our Kitchen Studio link.
Window on Wellness
Channel 15 • Next Airing: Tues 10:30am, Wed 7:00pm, Thurs 1:00pm
Cooking Show produced by Rutland Region Medical Center
Woodstock School Board
Channel 20 • Next Airing: Sat 6:30pm, Mon 9:30am, Thurs 1:00pm
Meets on the second Wednesday of each month