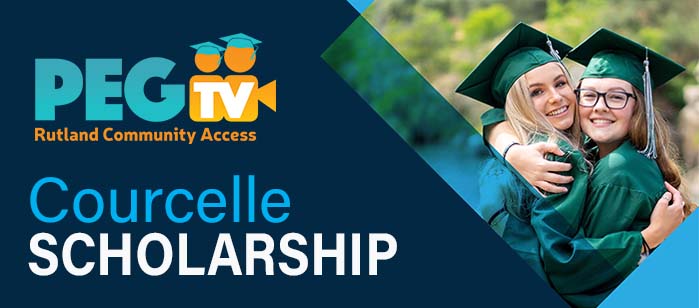 STAY IN THE LOOP
Join our mailing list above!
Courcelle Scholarship Info & Application
PEGTV Seeks Applicants for Courcelle Scholarships
FOR IMMEDIATE RELEASE: January 2, 2023
Media Contact:
Chelsea Tice
Public & Education Channel Coordinator
(802) 747-0151
PEGTV Seeks Applicants for Courcelle Scholarships
Rutland, VT – PEGTV will be awarding the Courcelle Scholarship to qualified Rutland County high school seniors pursuing post-secondary education at a college, university, or trade school. The awards may total up to $8000. A minimum of $1000 shall be awarded to each selected applicant. The amount of each award may vary based upon the quality of each applicant's submissions and interview.
The PEGTV Courcelle Scholarship honors the memory of Joe Courcelle for his pioneering work for Public Access Television in Rutland. He was an active member of the original board of directors, a dedicated independent producer, and an integral part of the establishment of PEGTV.
Applications have been sent out to Rutland County high schools for distribution to interested candidates and are due by Monday, May 1, 2023, and may be submitted physically or digitally. Please see pegtv.com/courcelle-scholarship for more details. The scholarship committee will review the written applications and interview the candidates virtually or in-person the week beginning May 8.
Students interested in receiving an application may contact their high school guidance office or contact Chelsea Tice, Public & Education Channel Coordinator, at 747-0151 or ctice@pegtv.com.
PEGTV is a public access television station comprised of Comcast Channels 1075, 1085, and 1095 and VTel Channels 163, 164, and 165, and is available throughout Rutland County to all cable subscribers. Streaming programming, hyper-local weather forecasts, and video on demand services are also available online at pegtv.com.
1 Scale Avenue | Rutland, VT 05701 | 802.747.0151 | pegtv.com
###
Those eligible to apply include any Rutland County high school senior who intends to pursue post-secondary education in any area of television, film, radio, internet, computer animation, graphic and digital arts, sound engineering, photo and print journalism, marketing, communications, and public relations.