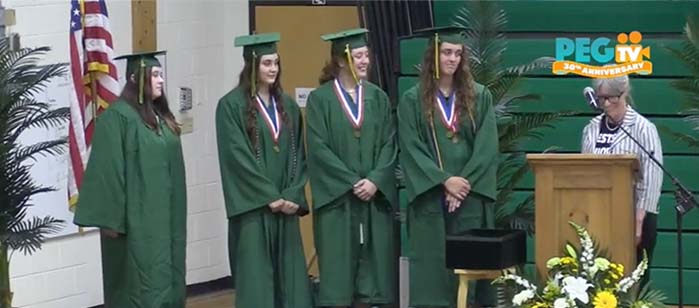 STAY IN THE LOOP
Join our mailing list above!
Education 1095
Channel 1095 is PEGTV's Education Channel. The education station's content must be created for or by a school. Education programming includes, but is not limited to, School Board meetings, educational talk shows, concerts and talent shows, Castleton University programming, and the informational bulletin board.
Channel 1095 is run by Public/Education Coordinator, Chelsea Vogel. You can reach Chelsea at cvogel@pegtv.com.
SCHEDULE


6:00 AM PEGTV: Sports Rewind - RHS at Essex Boys JV Basketball
7:10 AM PEGTV: Sports Rewind - RHS at Essex Boys Varsity Basketball
8:22 AM PEGTV: Sports Rewind - RHS vs Middlebury Varsity Football
10:30 AM Wells Springs School Board
12:44 PM Learning Lounge - November 2023
1:17 PM Otter Valley Unified Union School Board
2:30 PM PEGTV: Sports Rewind - Rutland vs MSJ Boys Varsity Basketball
4:00 PM PEGTV: Sports Rewind - Rutland vs Mt Anthony Boys Varsity Basketball
5:52 PM PEGTV: Sports Rewind - RHS vs North Country Division II State Hockey Championship
7:27 PM Mill River Unified Union School Board
9:16 PM Slate Valley Unified Union School Board

6:30 AM PEGTV: Sports Rewind - MSJ vs RHS Football - Division 1 State Championship
8:00 AM Rutland City School Board
9:46 AM PEGTV: Sports Rewind - Amateur Boxing
10:40 AM Slate Valley Unified Union School Board
11:30 AM PEGTV: Sports Rewind - Glodzik Championship - Sixers vs Middlebury
12:30 PM Rutland Town School Board
3:00 PM Learning Lounge - November 2023
4:00 PM Mill River Unified Union School Board
6:00 PM PEGTV: Sports Rewind - RHS at Springfield Boys JV Basketball
7:14 PM PEGTV: Sports Rewind - RHS vs Burr & Burton Boys JV Basketball
8:14 PM PEGTV: Sports Rewind - RHS vs Mill River Boys JV Basketball
9:28 PM PEGTV: Sports Rewind - Mill River vs Montpelier Varsity Football
11:19 PM PEGTV: Sports Rewind - RHS at Springfield Boys JV Basketball

12:33 AM PEGTV: Sports Rewind - RHS vs Burr & Burton Boys JV Basketball
1:33 AM PEGTV: Sports Rewind - RHS vs Mill River Boys JV Basketball
2:47 AM PEGTV: Sports Rewind - Mill River vs Montpelier Varsity Football
4:38 AM PEGTV: Sports Rewind - RHS at Springfield Boys JV Basketball
5:52 AM PEGTV: Sports Rewind - RHS vs Burr & Burton Boys JV Basketball
6:52 AM PEGTV: Sports Rewind - RHS vs Mill River Boys JV Basketball
8:06 AM PEGTV: Sports Rewind - Mill River vs Montpelier Varsity Football
9:57 AM PEGTV: Sports Rewind - RHS at Springfield Boys JV Basketball
11:11 AM PEGTV: Sports Rewind - RHS vs Burr & Burton Boys JV Basketball
12:12 PM PEGTV: Sports Rewind - RHS vs Mill River Boys JV Basketball
1:25 PM PEGTV: Sports Rewind - Mill River vs Montpelier Varsity Football
3:16 PM Rutland Town School Board
6:00 PM Quarry Valley Unified Union School Board
8:41 PM PEGTV: Sports Rewind - RHS at Springfield Boys JV Basketball
9:55 PM PEGTV: Sports Rewind - RHS vs Burr & Burton Boys JV Basketball
10:55 PM Mill River Unified Union School Board

7:00 AM Quarry Valley Unified Union School Board
9:41 AM Learning Lounge - November 2023
10:14 AM PEGTV: Sports Rewind - MSJ vs Bellows Falls Girls JV Basketball
11:12 AM PEGTV: Sports Rewind - MSJ vs Bellows Falls Girls Varsity Basketball
12:30 PM PEGTV: Sports Rewind - MSJ vs BFA Varsity Football
2:01 PM PEGTV: Sports Rewind - RHS at Springfield Boys JV Basketball
3:15 PM PEGTV: Sports Rewind - RHS vs Burr & Burton Boys JV Basketball
4:15 PM PEGTV: Sports Rewind - RHS vs Fair Haven Boys JV Basketball
5:25 PM PEGTV: Sports Rewind - RHS vs Fair Haven Boys Varsity Basketball
7:00 PM Otter Valley Unified Union School Board
8:09 PM PEGTV: Sports Rewind - RHS at Essex Boys JV Basketball
9:20 PM PEGTV: Sports Rewind - RHS at Essex Boys Varsity Basketball

5:00 AM PEGTV: Sports Rewind - MSJ vs RHS Varsity Football
7:03 AM Otter Valley Unified Union School Board
8:13 AM PEGTV: Sports Rewind - RHS vs Burlington Boys JV Basketball
9:22 AM PEGTV: Sports Rewind - RHS vs Burlington Boys Varsity Basketball
10:25 AM PEGTV: Sports Rewind - RHS vs Burlington Boys JV Basketball
11:49 AM PEGTV: Sports Rewind - RHS vs Burlington Boys Varsity Basketball
12:55 PM PEGTV: Sports Rewind RHS vs Mount Anthony Varsity Football
3:00 PM Mill River Unified Union School Board
4:49 PM PEGTV: Sports Rewind - RHS vs MSJ Boys JV Basketball
5:52 PM PEGTV: Sports Rewind - RHS vs MSJ Boys Varsity Basketball
7:02 PM PEGTV: Sports Rewind - MSJ vs RHS Football - 60th Game

6:30 AM PEGTV: Sports Rewind - RHS at Brattleboro JV Football
8:00 AM PEGTV: Sports Rewind - RHS at Springfield Boys JV Basketball
9:15 AM PEGTV: Sports Rewind - RHS vs Burr & Burton Boys JV Basketball
10:15 AM Quarry Valley Unified Union School Board
12:56 PM PEGTV: Sports Rewind - RHS vs Middlebury Varsity Football
3:00 PM Slate Valley Unified Union School Board
3:47 PM PEGTV: Sports Rewind - MSJ vs BFA Varsity Football
5:18 PM PEGTV: Sports Rewind - RHS vs North Country Division II State Hockey Championship
6:52 PM Learning Lounge - November 2023
7:25 PM Rutland Town School Board
9:46 PM Wells Springs School Board

5:00 AM PEGTV: Sports Rewind - RHS at Springfield Boys JV Basketball
6:14 AM PEGTV: Sports Rewind - RHS vs Burr & Burton Boys JV Basketball
7:14 AM PEGTV: Sports Rewind - RHS vs Mill River Boys JV Basketball
8:28 AM PEGTV: Sports Rewind - Mill River vs Montpelier Varsity Football
10:19 AM PEGTV: Sports Rewind - RHS vs South Burlington
12:30 PM Wells Springs School Board
2:44 PM PEGTV: Sports Rewind - RHS vs Middlebury Varsity Football
4:40 PM PEGTV: Sports Rewind - RHS vs Burlington Boys JV Basketball
6:04 PM PEGTV: Sports Rewind - RHS vs Burlington Boys Varsity Basketball
7:10 PM PEGTV: Sports Rewind - Amateur Boxing
8:04 PM Rutland Town School Board

5:00 AM PEGTV: Sports Rewind - RHS vs Hartford Boys JV Basketball
6:15 AM PEGTV: Sports Rewind - RHS vs Hartford Boys Varsity Basketball
7:25 AM PEGTV: Sports Rewind - RHS at Mount Anthony Boys JV Basketball
8:42 AM PEGTV: Sports Rewind - RHS at Mount Anthony Boys Varsity Basketball
10:30 AM Wells Springs School Board
12:44 PM Learning Lounge - November 2023
1:17 PM Otter Valley Unified Union School Board
2:30 PM PEGTV: Sports Rewind - RHS vs Fair Haven Boys JV Basketball
3:39 PM PEGTV: Sports Rewind - RHS vs Fair Haven Boys Varsity Basketball
5:30 PM PEGTV: Sports Rewind - RHS at Springfield Boys JV Basketball
6:44 PM PEGTV: Sports Rewind - RHS vs Burr & Burton Boys JV Basketball
7:44 PM Mill River Unified Union School Board
9:34 PM Slate Valley Unified Union School Board

CHANNEL NOTES & INFO
>> Courcelle Scholarship Info & Application
>> Games and Sports
>> Graduation Ceremonies on PEGTV 1095 & VTel 164
>> PEGTV Channel 1095 Time Slots for Current Programs





LIVE CHANNEL STREAM
Online Schedule:
Saturday, Sunday & Wednesday – Public
Monday & Thursday – Government
Tuesday & Friday - Education