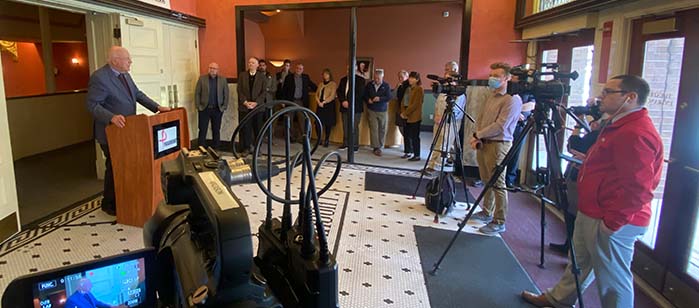 STAY IN THE LOOP
Join our mailing list above!
Government 1085
Channel 1085 is PEGTV's Government Channel. This channel content manages content related to the workings of the local, state or federal government. Government programming includes, but is not limited to, political talk shows, Aldermen and Select Board meetings, legislative breakfast series, current affairs, political history, and the informational bulletin board. We also offer LIVE unbiased election coverage and candidate profiles for those running for office during election years.
Channel 1085 is managed by Program Coordinator, Rich Elnicki. You can reach Rich by emailing him at relnicki@pegtv.com.
SCHEDULE
Click each to expand schedule.


8:30 AM Castleton Select Board Budget Meeting
10:30 AM PEGTV Video Vault - Rutland Town Select Board
11:30 AM Killington Select Board
1:00 PM PEGTV Legends - Ilene Blackman and Mike Valentine
1:30 PM Public Safety Town Hall at The Paramount Theatre
4:00 PM Pittsford Select Board
5:38 PM Rutland Town Planning Commission
6:30 PM Fair Haven Select Board
8:30 PM Rutland City Public Safety Community Meeting
10:00 PM PEGTV Video Vault - Rutland Town Select Board

12:04 AM Rutland City Public Safety Community Meeting
1:28 AM Rutland City Public Safety Community Meeting
2:52 AM Rutland City Public Safety Community Meeting
7:00 AM Rutland Town Planning Commission
8:30 AM Wallingford Sidewalk Project Meeting
9:21 AM Danby Select Board
10:33 AM Poultney Select Board
11:13 AM Rutland Town Select Board
2:26 PM Fall into Winter 2023
2:30 PM Killington Select Board
4:00 PM Project Vision Meeting
4:30 PM Rutland City Public Safety Community Meeting
5:53 PM Pawlet Select Board
6:49 PM PEGTV Video Vault - Rutland City Board of Aldermen
8:15 PM Mendon Select Board
9:30 PM Proctor Select Board
10:59 PM PEGTV Legends - Ilene Blackman and Mike Valentine
11:06 PM Governor Scott Press Conference

12:04 AM Rutland City Public Safety Community Meeting
1:27 AM Rutland City Public Safety Community Meeting
2:51 AM Rutland City Public Safety Community Meeting
6:25 AM PEGTV Video Vault - Rutland Town Select Board
8:30 AM Project Vision Meeting
9:30 AM Pittsford Select Board
11:30 AM Castleton Select Board Budget Meeting
1:00 PM Fall into Winter 2023
2:00 PM Danby Select Board
4:00 PM Brandon Select Board
7:00 PM Wallingford Select Board
8:38 PM PEGTV Video Vault - Rutland City Board of Aldermen
10:03 PM Rutland City Board of Aldermen
11:05 PM PEGTV Legends - Ilene Blackman and Mike Valentine

7:00 AM Wallingford Select Board
8:38 AM PEGTV Video Vault - Rutland City Board of Aldermen
10:03 AM Pittsford Select Board
11:42 AM Project Vision Meeting
12:00 PM Pawlet Select Board
2:00 PM Danby Select Board
4:00 PM Public Safety Town Hall at The Paramount Theatre
5:54 PM Fall into Winter 2023
6:30 PM PEGTV Legends - Ilene Blackman and Mike Valentine
7:00 PM Live Rutland City Board of Aldermen

8:00 AM Fair Haven Select Board
9:58 AM Brandon Select Board
3:00 PM Clarendon Select Board
4:00 PM Poultney Select Board
5:00 PM Mendon Select Board
7:00 PM Killington Select Board
8:23 PM PEGTV Legends - Ilene Blackman and Mike Valentine
9:00 PM Rutland Town Select Board
11:36 PM Fall into Winter 2023

8:00 AM Clarendon Select Board
9:00 AM Public Safety Town Hall at The Paramount Theatre
11:00 AM Rutland Town Planning Commission
1:00 PM Fair Haven Select Board
3:00 PM Poultney Select Board
4:30 PM PEGTV Legends - Ilene Blackman and Mike Valentine
5:00 PM Wallingford Sidewalk Project Meeting
6:00 PM PEGTV Video Vault - Rutland Town Select Board
7:00 PM Castleton Select Board Budget Meeting
9:00 PM Proctor Select Board
10:30 PM PEGTV Video Vault - Rutland Town Select Board

7:30 AM Pawlet Select Board
9:00 AM Mendon Select Board
10:30 AM Proctor Select Board
11:58 AM Wallingford Sidewalk Project Meeting
1:00 PM Brandon Select Board
3:00 PM PEGTV Video Vault - Rutland Town Select Board
4:00 PM Rutland City Public Safety Community Meeting
5:23 PM Wallingford Select Board
7:02 PM Rutland Town Select Board
9:38 PM PEGTV Legends - Ilene Blackman and Mike Valentine
10:00 PM Clarendon Select Board

8:30 AM Castleton Select Board Budget Meeting
10:30 AM PEGTV Video Vault - Rutland Town Select Board
11:30 AM Killington Select Board
1:30 PM PEGTV Video Vault - Rutland Town Select Board
3:33 PM PEGTV Legends - Ilene Blackman and Mike Valentine
4:00 PM Pittsford Select Board
5:38 PM Rutland Town Planning Commission
6:30 PM Fair Haven Select Board
8:30 PM Rutland City Public Safety Community Meeting
10:00 PM PEGTV Video Vault - Rutland Town Select Board

CHANNEL NOTES & INFO
>> PEGTV Channel 1085 Time Slots for Current Programs
>> Rutland County City/Town Website Directory





LIVE CHANNEL STREAM
Online Schedule:
Saturday, Sunday & Wednesday – Public
Monday & Thursday – Government
Tuesday & Friday - Education