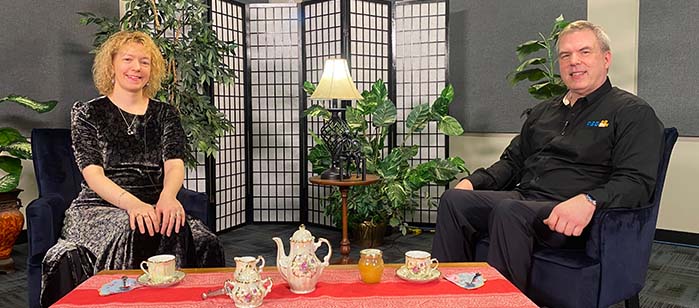 STAY IN THE LOOP
Join our mailing list above!
Public 1075
Channel 1075 is PEGTV's Public Channel. Content is basically eveything that does not fall under the educational or government category. Public programming includes, but is not limited to, local sports, health services, seasonal parades, talk shows, church services, meetings and events, cooking shows, and talent shows. Channel 1075 also features a Community Bulletin Board which showcases local non-profit events. If you would like to submit a non-profit community to promote an event, please email Chris at cmccormack@pegtv.com or drop a flyer off at our studio.
Channel 1075 is managed by Program Coordinator Christopher McCormack. Chris is a life-long Rutlander who graduated with a BA in Communications from Castleton University. Chris spent 15 years as the Education Coordinator before making the switch to the Public Channel in 2015. Chris has a long history in local radio broadcasting including regional stations, WHWB, WVNR and WJJR. During his spare time Chris enjoys bowling, basketball, jogging and hiking.
SCHEDULE


9:30 AM Castleton Community Center
10:30 AM Green Mountain Chef - Ian Vair
12:00 PM Vermont Land Trust:
1:30 PM Historically Speaking: Immigrants from Czechoslovakia to Vermont
2:30 PM Artists in New England
4:00 PM Addiction Recovery
7:00 PM Time Stamp:
8:00 PM View to a Skill:
8:30 PM Clarendon Historical Society:

9:30 AM Castleton Community Center - Better Balance
10:01 AM Road to Recovery 2021
11:00 AM Bocconci'n Divino with Andrea Taravella
11:15 AM Play Vermont 953 Tourism Promo
12:00 PM Current Topics in Science:
1:14 PM Power Outages Prep
3:00 PM Be Aware to be Prepared
3:31 PM Scouting in Vermont: Adventure Awaits - Episode 2
5:00 PM Hands in the Dirt:
7:30 PM Historically Speaking: Immigrants from Czechoslovakia to Vermont
8:01 PM Pet Partners - Rutland County Humane Society
9:00 PM Geppetto Room
9:30 PM Flashback High School Football:

9:00 AM Canning Beans and Cukes
10:00 AM RSVP Bone Builders
4:15 PM Power Outages Prep

5:00 AM ECKANKAR - Mission Renewed
7:00 AM Revive Church - Poultney
8:00 AM Calvary Bible Church
9:00 AM First Baptist Church of Fair Haven
10:00 AM Furnace Brook Wesleyan Church
11:00 AM Catholic TV Mass
11:30 AM Grace Congregational Church
12:29 PM Revive Church - Poultney
1:28 PM Rutland Wallingford Catholic
2:30 PM Bocconci'n Divino with Andrea Taravella
2:45 PM Play Vermont 953 Tourism Promo
3:00 PM Pittsford Congregational Church
3:30 PM All Saints' Anglican Church
5:00 PM Catholic TV Mass
5:30 PM First Congregation Church of Fair Haven
6:00 PM First Baptist Church of Fair Haven
7:00 PM Furnace Brook Wesleyan Church
8:00 PM Calvary Bible Church
9:00 PM All Saints' Anglican Church
10:01 PM ECKANKAR
10:30 PM Grace Congregational Church
11:30 PM First Congregation Church of Fair Haven

9:30 AM Castleton Community Center - Better Balance
10:30 AM Be Aware to be Prepared
11:01 AM View to a Skill:
11:30 AM Geppetto Room
12:00 PM Canning Beans and Cukes
2:00 PM Time Stamp:
2:30 PM Pet Partners - Rutland County Humane Society
3:00 PM Clarendon Historical Society:
7:00 PM Scouting in Vermont: Adventure Awaits - Episode 2
7:30 PM Road to Recovery 2021
8:00 PM Green Mountain Chef - Ian Vair
9:30 PM Artists in New England

8:00 AM Power Outages Prep
8:30 AM RSVP Bone Builders
9:30 AM Castleton Community Center - Tai Chi - Session 5
11:00 AM Hands in the Dirt:
12:15 PM Play Vermont 953 Tourism Promo
4:30 PM Green Mountain Chef - Ian Vair
5:00 PM Middlebury Festival on the Green:
7:00 PM Current Topics in Science:
8:30 PM Be Aware to be Prepared
9:01 PM Vermont Land Trust_Program 4-CL19
11:00 PM Addiction Recovery

9:00 AM Time Stamp:
9:30 AM Castleton Community Center - Better Balance
10:30 AM Scouting in Vermont: Adventure Awaits - Episode 2
12:30 PM Pet Partners - Rutland County Humane Society
1:00 PM Middlebury Festival on the Green:
3:00 PM Road to Recovery 2021
3:30 PM Geppetto Room
4:00 PM Historically Speaking: Immigrants from Czechoslovakia to Vermont
4:31 PM View to a Skill:
7:00 PM Canning Beans and Cukes
8:00 PM Bocconci'n Divino with Andrea Taravella
8:15 PM Play Vermont 953 Tourism Promo

9:30 AM Castleton Community Center
10:30 AM Green Mountain Chef - Ian Vair
12:00 PM Vermont Land Trust_Program 4-CL19
1:30 PM Historically Speaking: Immigrants from Czechoslovakia to Vermont
2:30 PM Artists in New England
7:00 PM Time Stamp:
8:00 PM View to a Skill:
8:30 PM Clarendon Historical Society:

CHANNEL NOTES & INFO
>> Channel 1075 Schedule at a Glance
>> Games Available for Purchase January 2015 to 2019
>> Games Available for Purchase January 2020 to Present
>> Games Available for Purchase OCT 30, 2010 to DEC 31, 2014
>> PEGTV Channel 1075 Time Slots for Current Programs





LIVE CHANNEL STREAM
Online Schedule:
Saturday, Sunday & Wednesday - CH 1075
Monday & Thursday - CH 1095
Tuesday & Friday - CH 1085