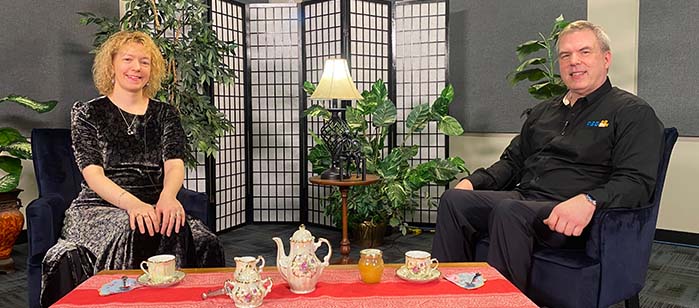 STAY IN THE LOOP
Join our mailing list above!
Public 1075
Channel 1075 is PEGTV's Public Channel. Content is eveything that does not fall under the educational or government category. Public programming includes, but is not limited to, local sports, health services, seasonal parades, talk shows, church services, meetings and events, cooking shows, and talent shows. Channel 1075 also features a Community Bulletin Board which showcases local non-profit events.
Channel 1075 is run by Public/Education Coordinator, Chelsea Vogel. You can reach her at cvogel@pegtv.com for more information or if you would like to submit a non-profit digital flyer to promote an event.
SCHEDULE


6:00 AM Brandon Tree Lighting
7:00 AM BenAnna Band
8:00 AM Nutcracker Promo
11:30 AM Batman Tom Fagan Sculpture Dedication
12:00 PM Fireplace
6:30 PM Tea and Talk
7:30 PM Historically Speaking - A Tribute to Jim Davidson
8:10 PM Pet Partners
9:00 PM The Geppetto Room
10:00 PM Fireplace

5:00 AM Fireplace
6:00 AM Twas a Christmas in Rutland
7:00 AM Let's Talk:Community Health Workers
7:30 AM Batman Tom Fagan Sculpture Dedication
8:00 AM Imagination Library - November 2023
8:30 AM Crafts for Kids - October & November
9:00 AM Handel's Messiah presented by Grace Congregational Church
10:30 AM BenAnna Band
11:00 AM Pittsford Sap Bucket Tree Lighting
11:30 AM VTSU Protest
12:00 PM Brandon Tree Lighting
12:30 PM Tea and Talk
1:30 PM Verterans Day Ceremony at The American Legion
2:30 PM Downtown Rutland Tree Lighting
3:00 PM BROC Community Action Annual Meeting
3:42 PM Handel's Messiah presented by Grace Congregational Church
5:00 PM RSVP Christmas Special at Pleasant Manor
5:30 PM Sounds of the Season
6:17 PM Handel's Messiah presented by Grace Congregational Church
7:34 PM Handel's Messiah presented by Grace Congregational Church
8:52 PM Handel's Messiah presented by Grace Congregational Church

7:00 AM Revive Church
8:06 AM Calvary Bible Church
9:00 AM Green Mountain Missionary Baptist Church
10:00 AM Furnace Brook Wesleyan Church
11:00 AM Catholic TV Mass
11:30 AM Grace Congregational Church
12:30 PM Revive Church
2:00 PM Green Mountain Missionary Baptist Church
3:00 PM Pittsford Congregational Church
5:00 PM Catholic TV Mass
5:30 PM First Congregation Church of Fair Haven
7:00 PM Furnace Brook Wesleyan Church
8:00 PM Calvary Bible Church
9:00 PM Pittsford Congregational Church
10:30 PM Grace Congregational Church
11:30 PM First Congregation Church of Fair Haven

9:00 AM RSVP Christmas Special at Pleasant Manor
11:30 AM The Geppetto Room
12:30 PM Twas a Christmas in Rutland
2:30 PM Pet Partners
5:00 PM VTSU Protest
6:30 PM Relationship Toolbox - November 2023
7:30 PM Pittsford Sap Bucket Tree Lighting
8:00 PM Brandon Carol Festival Yule Log

10:00 AM Relationship Toolbox - November 2023
10:30 AM Downtown Rutland Tree Lighting
11:30 AM Pet Partners
12:30 PM Imagination Library - November 2023
2:30 PM Nutcracker Promo
3:00 PM Sounds of the Season
4:30 PM Verterans Day Ceremony at The American Legion
6:00 PM BenAnna Band
6:30 PM Let's Talk:Community Health Workers
7:00 PM Handel's Messiah presented by Grace Congregational Church
9:00 PM Fireplace

6:30 AM Brandon Carol Festival Yule Log
9:00 AM VTSU Protest
1:00 PM RSVP Christmas Special at Pleasant Manor
3:30 PM The Geppetto Room
4:00 PM Historically Speaking - A Tribute to Jim Davidson
5:30 PM Twas a Christmas in Rutland
7:00 PM Brandon Tree Lighting
7:30 PM Imagination Library - November 2023

7:00 AM Verterans Day Ceremony at The American Legion
8:00 AM Pittsford Sap Bucket Tree Lighting
10:00 AM Let's Talk:Community Health Workers
11:00 AM Sounds of the Season
1:30 PM Historically Speaking - A Tribute to Jim Davidson
2:30 PM Handel's Messiah presented by Grace Congregational Church
5:00 PM Relationship Toolbox - November 2023
7:00 PM Downtown Rutland Tree Lighting
9:00 PM Fireplace

6:00 AM Brandon Tree Lighting
7:00 AM BenAnna Band
8:00 AM Nutcracker Promo
12:00 PM Fireplace
7:30 PM Historically Speaking - A Tribute to Jim Davidson
8:10 PM Pet Partners
9:00 PM The Geppetto Room
10:00 PM Fireplace

CHANNEL NOTES & INFO
>> PEGTV Channel 1075 Time Slots for Current Programs





LIVE CHANNEL STREAM
Online Schedule:
Saturday, Sunday & Wednesday – Public
Monday & Thursday – Government
Tuesday & Friday - Education