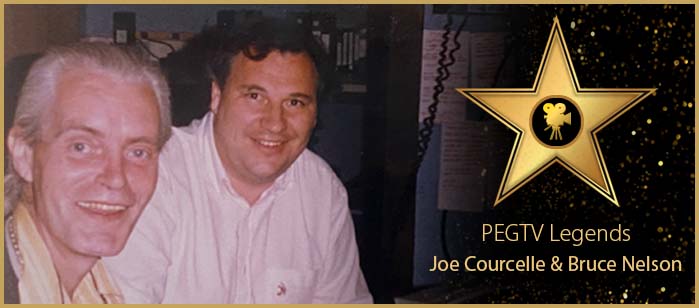 STAY IN THE LOOP
Join our mailing list above!
PEGTV Hall of Fame
PEGTV Hall of Fame Inductees 2023
Sherri Birkheimer-Rooker - Talk show host, It's All About the Arts, non-profit promotions, board member.
Ilene Blackman -15 on the Arts, Rutland Region Report host, on-location talent, legend.
Arlen Bloodworth - Pretty-Shaky Productions, Graduations, sports, meetings.

John Bloomer Jr. - Legislative Update, legal counsel, board member, advisor.

Calvary Bible Church -Longest running volunteer produced program in PEGTV history. On the air for 30 consecutive years in the same time slot.

Mark Carboneau -Years of sports commentary for hundreds of home and away games.

Joe Courcelle -Technical Director, editor, camera operator, board member, studio and field producer, legend.

Mary Crowley -The Arts Show, Zing, produced programs for nearly 20 years.

Jim Davidson -Historically Speaking, A Moment in History, historical documentaries, a genuine love for history and PEGTV, legend.

Tom Donahue -Chamber Focus, BROC Talk, Election Night Live host, produced at 3 PEGTV locations, Board President (1999-2001). Always gets it on the first take.

Michael Dwyer - Historically Speaking, genealogy specials.

David Giancola -Founding board member, technical advisor, producer.

Nanci Gordon -On-air host, Stuff A Bus, non-profit promotionals.

Tom Haley -Haley's Comet, produced at 3 PEGTV locations, last program at Adelphia, first program at Howe Center.

Nan & Jay Hart -RSVP VIBES, first husband & wife to serve as Board Presidents, Nan (2007-2009), Jay (2017-2019).

Jack Healey -Decades of sports commentary on hundreds of multi-sport games.

Terry "Jaye" Jarrosak -Involved with public access television since inception, Stuff A Bus, live call-host, board member, mentor.

Jim Kahle -Stream of Consciousness Productions, RAHA Hockey, sports, Hospice Tree of Remembrance, board member. Produced at 3 PEGTV locations.
Dr. Thomas LaPlaca -RAHA, Shrine Maple Sugar Bowl, Relay for Life

Rick Marallo -Tai-Chi for Health, World of Martial Arts, produced at 3 PEGTV locations.

Brian & Peg Mayhew -Hundreds of sports and special events, editor, camera operator, commentator, studio & field producer, legend.

Jerry Munger -Sportsbeat, special programs, "The man of 1000 games." The most productive sports producer in PEGTV history.

Bruce Nelson -First Executive Director, producer, editor, camera operator, legend.

Ted Pendleton -First Board President (1996-1999), Halloween parade commentator, live forum host, creator of The Courcelle Scholarship, legend.
Jo Ann Riley -CSJ Campus Report, Italian Opera at CSJ and promotions for the Castleton Woman's Club

Ernie Sule -Decades of productions, sports, special events, location assistance, produced at 3 PEGTV locations, board member.

Scott Switzer -Graduations, meetings, RRMC health specials, board member, legend.

Joe Tilden -Democrats Today, Civically Speaking, Big Joe's Journal. Produced close to 1000 episodes, legend.

Michael J. Valentine -Executive Director, producer, pioneer, actor, talent, brought PEGTV into the modern era, legend.

Stephanie & Andrew Wilson -RCHS Pet Partners, staff member, producers, technical advisors, Royal Pumpkin Pageant Live host, Halloween Parade host, street camera operator. Both served as Board President, Andrew (2001-2003), Stephanie (2021-present). Introduced to each other by Michael J. Valentine.