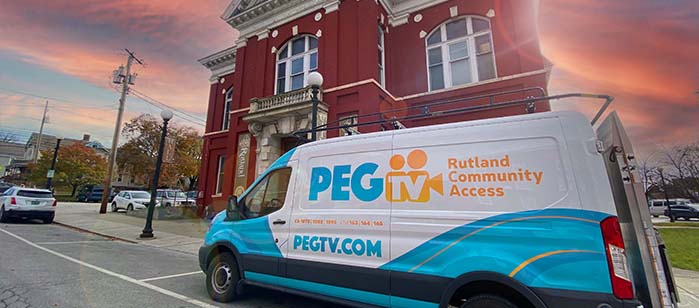 STAY IN THE LOOP
Join our mailing list above!
PROGRAMMING POLICIES
"Public Access" in a cable television system is exactly what the words imply: the opportunity for all citizens and community groups to communicate to the public via the cable television system. Comcast Cable provides, as a public service, certain public access cable channels for use by the public.
Rutland PEGTV operates and maintains studio and portable video production facilities that any responsible, certified person may use for the express purpose of originating a television presentation that is to be cablecast over the public access channel. PEGTV will not restrict the content or message of any program presented over the access channels. There are, however, federal laws pertaining to the subject matter of local access programs, and there may be state and local regulations concerning such matters as advertising material, lottery information, use of copyrighted material, and obscene or indecent material. Every user of the access channel should be totally cognizant of his or her ethical and legal responsibilities and liabilities before using the public access channels.
The communications act of 1984 specifically prohibits cable operators from exercising editorial control over access programming. In the spirit of full compliance with the act, PEGTV will endeavor to permit and will encourage the widest applications of the access channels as possible. PEGTV will in no way unreasonably restrict program formats, topics, language, or material that is controversial in nature. However, in order to fulfill its responsibilities to its subscribers, PEGTV reserves the right to preview all pre-recorded programs. The system's Executive Director in conjunction with the advisory board may determine that a program is not suitable for cablecasting within the system's service area. In a situation where in the Executive Director's judgment program content is not suitable for viewing by children, the coordinator has the right to cablecast such programs, at his/her discretion, during hours when children are not likely to be viewing. While the Executive Director is uncomfortable making such judgments, it is clear that he/she has a responsibility to subscribers and the community to insure that programming which might be obscene or indecent, but otherwise protected by the constitution, is subject to reasonable controls which are in the general public's interest.